4G
Stay in touch with Superfast 4G for Ultimate flexibility.
Similar to our WiMax technology, our 4G routers make the most of the Mobile Network which power your mobile devices when you are on the move. Our 4G routers provide a Wi-Fi signal in your home and also fixed ports for Gaming Machines and devices that work best when plugged in. 4G routers are great for short term lets and those who do not require a landline or wish to install Fibre.
Browse Packes
Alexa 4G
Keep In Touch with your Friends and Family
Keep In Touch with your Friends and Family, Place one of our stylish 4G Alexa units anywhere your home and experience the magic of Amazons AI. Drop In On your loved ones and Check there are ok, Or They Can Simply Ask The Device In Their Home To Call You Without Needing A Landline – Ask the Homenet Team for further details and pop in-store to see 4G Alexa in action today!
Browse Packages
WiMax
Flexible Unlimited* Internet plans.
WiMax is a Wireless Broadband Communication, ideal for short term tenancy or those not wanting to have Fibre installed – WiMax sends a wireless signal from our Base Stations to a WiMax Router In your Home without the need for a Landline or Fibre cable Installation. Homenet provides speeds Up To 20mb with Unlimited* Usage.  Contact the Homenet Team today for a Free 7-day Trial.
Browse Packages
Homenet Fibre
Ultrafast Internet for the Whole Family.
The Future Next Generation Ultrafast Fibre Broadband without limits is already here!. Homenet is Jersey's only Internet Service Provider that already offers our unlimited* Ultrafast Fibre without an Incumbent Telephone Service to thousands of homes, and who uses a home phone these Days anyway?  - So why pay for one? – With Speeds Up To 1Gb, Ultrafast Fibre is available today. Contact the Homenet Team to see if we already have Fibre in your area. New locations are being added every week!
Browse Packages
Wi-Fi Coverage giving you headaches?
Homenet offers fully Managed Meshable Solutions that create an invisible net painting your Home with Superfast Wi-Fi
Homenet guarantees to paint your whole house in Wi-fi and into your Garden for those Hot Summer days. Anyone, you don't have to be a Homenet Customer, can benefit from our Free extensive survey using the latest tools to uncover all the weak areas in your home. Free Site Surveys provide you with our extensive knowledge and no commitment advice. Our experienced Engineers will even bring along some of our most popular products to solve your Wi-Fi woes right there on the spot. The days of sitting close to your router for the best signal, will be a thing of the past. All our routers are Cloud Managed and offer the best coverage available on the market today allowing you to finally make use of truly fast Internet!
No matter what your thing is, having the right Wi-Fi Technology makes Gaming, Streaming, Video chat and all your devices come to life!
Browse Packages
A Homenet House Is A Happy Wifi House
Homenet Broadband & Wi-Fi is perfect for your everyday needs, our packages can support you with working from home, Streaming Ultra High Def TV Shows and Movies or playing online Video Gaming. Homenet is Jersey's most affordable broadband and Internet Service provider offering packages to meet every pocket. Check Out Our Facebook For Testimonials.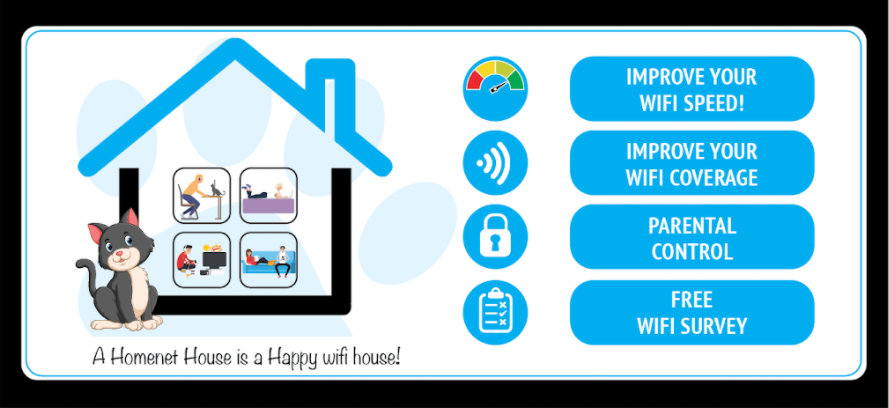 Explore Homenet
Broadband possibilities
We offer a fantastic range of client-oriented home broadband services
Access internet service around your home with our routers
Use our router to stay online on all your devices
Why you should Use Homenet Broadband
Our services;
We guarantee high-quality satellite connection all over the world. Our customer support is quick and user-friendly. Individual approach to the needs of clients to meet all their requirements for comfortable leisure is our main rule.
Choose one of the packages and get streaming speeds.
Browse our price plans and find a package which suits your need.